To complement our range of imaging hardware consisting of document scanners, book scanners, wide format scanners, microfilm scanners etc. we provide software that enables your document capture processes that will allow you to automate the transformation of paper documents to critical business data and thereafter, the information management solutions that help you to improve and simplify business processes that manage documents and other information within the enterprise.

DigitalDoc,
 the electronic document solution helps improve and simplify how businesses manage documents and other information in order to become more productive, more efficient and stay compliant. DigitalDoc provides quick and easy access to the right content from any workstation on the company's network. Searching for information is a breeze as all the information filed in DigitalDoc is classified by user defined metadata. We bring you this very user friendly Document Management Solution that will help your organization to move to a truly paperless environment.

---
Automate your paper intensive business application by transforming paper documents into critical business data. Kodak CapturePro quickly and easily converts batches of paper into high-quality images. Capture and index critical data and send smarter information to ECM systems, business applications with extensive integration to streamline workflow and processes. From desktop to high-volume operations, Capture Pro Software scales to your needs.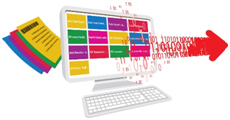 ---

The Info Input Portfolio offers web-based and mobile solutions designed to help businesses simplify document capture so that information can be intelligently used in a business process.